The Global Institute of Forensic Research now offers online training and certification for the STABLE-2007 & ACUTE-2007 with live webinar trainings which are offered several times per year.
Dynamic sexual recidivism risk assessments are increasingly required in behavioral health, correctional, and court settings. Recent surveys suggest that among the most widely-researched and commonly-used dynamic risk assessment tools for sex offenders are the STABLE-2007 and the ACUTE-2007.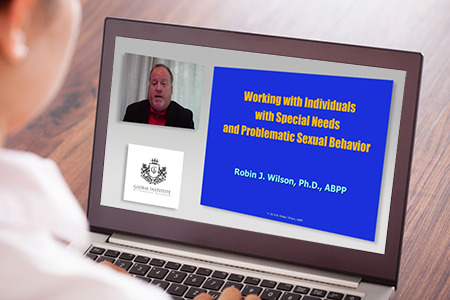 GIFR's webinar is presented by Robin Wilson, PhD, ABPP, one of only 45 certified STABLE-2007 and ACUTE-2007 trainers in the world approved by the developers of the instrument. Dr. Wilson is a researcher, educator, and board certified clinical psychologist who has worked with sexual offenders in hospital, correctional, and private practice settings for more than 30 years. He maintains an international practice based in Florida and regularly consults on STABLE-2007 and ACUTE-2007 scoring questions.
In the webinar, the development of the STABLE-2007 and ACUTE-2007 is discussed, item-by-item instructions are given on how to reliably score the measures and interpret their findings, and guidance is provided on how to apply STABLE-2007 and ACUTE-2007 reporting conventions. Case studies are employed to allow participants to practice using the tools and to learn to avoid common administration errors.
According to Dr. Jay P. Singh, Founder and CEO of GIFR, "This is the most cost-effective and time-efficient way to get trained and certified on these ground-breaking instruments." Dr. Singh adds that the live component still allows for plenty of interaction with the trainer. "To ensure a positive learning experience, we limit the number of webinar participants to ensure personal attention is paid to your valued questions and comments."
To find a training date for an upcoming STABLE-2007 and ACUTE-2007 Live Webinar, click here.
If you have questions about any of GIFR's trainings, click here to send us an email.
https://gifrinc.com/wp-content/uploads/sites/6/2016/11/STABLE-2007.png
350
600
Support
https://gifrinc.com/wp-content/uploads/sites/6/2021/04/logo-mhs-public-safety-final-header.png
Support
2016-11-18 23:50:14
2016-11-29 21:18:36
GIFR Offers Online Training and Certification For The STABLE-2007 & ACUTE-2007 Dynamic Sexual Recidivism Risk Assessment Tools