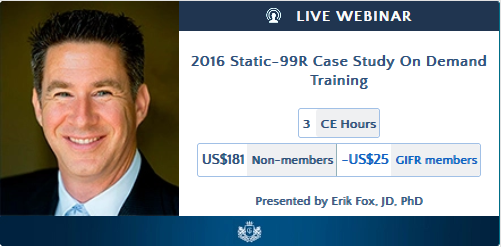 The Static-99R is the most commonly used and researched risk assessment tool for adult male sex offenders. The 2003 coding manual for the scale has been updated in 2016, with sufficient changes that the Static-99R Development Team recommends that anyone using the instrument obtain additional training. This On Demand version of the 2016 Static-99R Case Study Webinar was filmed in November 2016 with Static-99R certified trainer, Dr. Erik Fox. Test your skills against challenging case studies and promote staff compliance with the 2016 Coding Rules while earning 3 CE Hours from over 150 professional accrediting bodies.
Individual
Purchase attendance for a single individual
Group
To be considered a group, 10 or more individuals are required to participate. Purchase attendance for your team, facility, or library.
Eliminate hidden costs of in-person trainings including travel, hotel, food, and gas
Increase the reliability and accuracy of your sex offender risk assessments using the 2016 Update of the Static-99R
Earn 3 Continuing Education Credits
Erik Fox, JD, PhD is a certified Static-99R trainer approved by the developers of the instrument. A licensed psychologist and attorney for over 21 years, he has scored approximately 2,000 Static-99 and Static-99R exams, and regularly consults on Static-99R scoring questions. He worked as the director of a sexual offender treatment program in San Diego and now regularly testifies as an expert witness in civil commitment trials. For more information on Dr. Fox, please see his website: www.erikfox.com
The Global Institute of Forensic Research, Inc is approved by the American Psychological Association, National Board of Certified Counselors, National Association of Alcohol and Drug Abuse Counselors, Canadian Psychological Association, and the New York Department of Education to sponsor continuing education trainings. Global Institute of Forensic Research (GIFR) has been approved by NBCC as an approved Continuing Education provider, ACEP No. 6711. Programs that do not qualify for NBCC credit are clearly identified. GIFR is solely responsible for all aspects of the programs. The American Nurses Credentialing Center accepts Continuing Education Credit sponsored by the American Psychological Association. The Global Institute of Forensic Research, Inc. (provider #1371) is also approved as a provider for social work continuing education by the Association of Social Work Boards (ASWB) www.aswb.org, through the Approved Continuing Education (ACE) program. ASWB Approval Period: 6/8/2022-6/8/2025. Social workers should contact their regulatory board to determine course approval. ­The Global Institute of Forensic Research, Inc maintains responsibility for this program and its contents. Refund/Cancellation Policy: If you wish to request a refund on account of technical difficulties, please contact [email protected]. The Global Institute of Forensic Research, Inc. reports no conflicts of interest in the development and sponsorship of this training. The Global Institute of Forensic Research, Inc receives no commercial support for this Continuing Education program or from its presenter(s). The number of CE Credits provided for this training is commensurate to its length in hours. The level of instruction of this training is "Introductory". The format for this training is homestudy without interactivity. The intended audience for this training includes mental health, correctional, and legal professionals.
Note 1: The CPA's approval of an individual, group, or organization as a CE Sponsor or Provider is restricted to the activities described in the approved application or annual report form. The CPA's approval does not extend to any other CE activity the Sponsor or Provider might offer. In granting its approval, the CPA assumes no legal or financial obligations to Sponsors, Providers, or to those individuals who might participate in a Sponsor or Provider's CE activities or programs. Further, responsibility for the content, provision, and delivery of any CE activity approved by the CPA remains that of the CE Sponsor or Provider. The CPA disclaims all legal liability associated with the content, provision, and delivery of the approved CE activity.