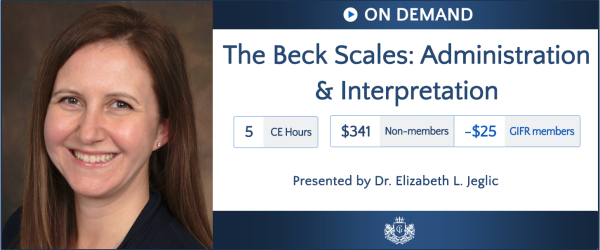 In this training you will gain an in-depth understanding of the history, development, administration, scoring and interpretation of the Beck Rating Scales. First you will learn how to use the Beck Depression Inventory–II and the Beck Hopeless Scale to evaluate symptoms of depression. Next, the assessment of anxiety symptoms using the Beck Anxiety Scale will be demonstrated. Finally Suicide Risk Assessment using the Scale for Suicide Ideation, the Beck Scale for Suicide Ideation, the Suicide Intent and the Beck Lethality Scale will be presented. Case studies will be used to demonstrate how these scales are applied in assessment and treatment. By the end of this training, you will be able to administer the Beck Rating Scales with your clients and interpret the outcomes of the instruments. This workshop is eligible for 5 hours of valuable Continuing Education Credit. It is recommended that attendees have access to the Beck Family of Assessments, each purchasable through the instrument's publisher, Pearson. For details, visit: http://www.pearsonclinical.com/
More cost-effective and time-efficient than attending an in-person workshop but covering the same content, this innovative training is the first-of-its-kind.
Individual
Purchase attendance for a single individual
Group
To be considered a group, 10 or more individuals are required to participate. Purchase attendance for your team, facility, or library.
Eliminate hidden costs of in-person trainings including travel, hotel, food, and gas
Increase the reliability and accuracy of your mental health assessments using the Beck Scales
Earn 5 Continuing Education Credits from APA, ASWB, NBCC, ANCC, NAADAC, and CPA
Dr. Elizabeth L. Jeglic is a Professor of Psychology at John Jay College. She received her doctorate in clinical psychology from Binghamton University and completed a postdoctoral fellowship at the University of Pennsylvania under the mentorship of Dr. Aaron T. Beck where she specialized in the assessment and treatment of depression and suicidal behavior. Dr. Jeglic's research interests are focused on issues broadly related to the assessment and treatment of depression and suicidal behavior specifically as they pertain to culture and ethnicity and forensic populations. She has received grants from the National Institute of Justice and the American Association for Suicide Prevention to fund her research. Dr. Jeglic has published over 90 peer reviewed articles and book chapters. She is an Associate Editor of the Sexual Abuse: A Journal of Research and Treatment, the editorial board of Psychology, Public Policy and Law and a Consulting Editor for Archives of Suicide Research.
The Global Institute of Forensic Research, Inc is approved by the American Psychological Association, National Board of Certified Counselors, National Association of Alcohol and Drug Abuse Counselors, Canadian Psychological Association, and the New York Department of Education to sponsor continuing education trainings. The American Nurses Credentialing Center accepts Continuing Education Credit sponsored by the American Psychological Association. The Global Institute of Forensic Research, Inc. (provider #1371) is also approved as a provider for social work continuing education by the Association of Social Work Boards (ASWB) www.aswb.org, through the Approved Continuing Education (ACE) program. ASWB Approval Period: June 8, 2019 – June 8, 2022. Social workers should contact their regulatory board to determine course approval. ­The Global Institute of Forensic Research, Inc maintains responsibility for this program and its contents. Refund/Cancellation Policy: If you wish to request a refund on account of technical difficulties, please contact [email protected]. The Global Institute of Forensic Research, Inc. reports no conflicts of interest in the development and sponsorship of this training. The Global Institute of Forensic Research, Inc receives no commercial support for this Continuing Education program or from its presenter(s). The number of CE Credits provided for this training is commensurate to its length in hours. The level of instruction of this training is "Introductory". The format for this training is homestudy without interactivity. The intended audience for this training includes mental health, correctional, and legal professionals.
Note 1: The CPA's approval of an individual, group, or organization as a CE Sponsor or Provider is restricted to the activities described in the approved application or annual report form. The CPA's approval does not extend to any other CE activity the Sponsor or Provider might offer. In granting its approval, the CPA assumes no legal or financial obligations to Sponsors, Providers, or to those individuals who might participate in a Sponsor or Provider's CE activities or programs. Further, responsibility for the content, provision, and delivery of any CE activity approved by the CPA remains that of the CE Sponsor or Provider. The CPA disclaims all legal liability associated with the content, provision, and delivery of the approved CE activity.