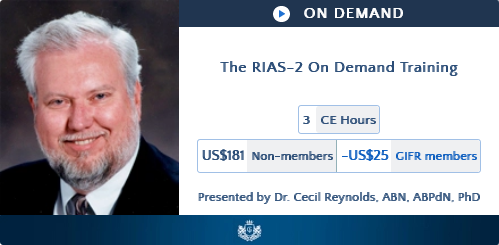 Psychologists spend a great deal of time conducting cognitive assessments, and often the bulk of this time is spent in the assessment (administration, scoring, and interpretation) of intelligence testing. The expenditure of so much time in intellectual assessment appears to be predicated on the myths of profile analysis, i. e., that a careful analysis of the patterns of subtest scores on intelligence tests will reveal cogent diagnostic and intervention-related insights justifying the hours often spent in such endeavors. Through a critique of the widely publicized failure of profile analysis of IQ tests and the reasons for this failure, the lack of value of profile analysis will be noted and the relevant information obtained from intelligence tests revealed. The useful information available from sound intelligence tests as measures of intellect will be emphasized and the Reynolds Intellectual Assessment Scales approach to rapid but reliable and valid intellectual assessment presented in detail, along with a review of the RIAS-2 (and its modifications from RIAS), as a preferred model of intellectual assessment. The design of the RIAS-2 and its development are reviewed including commentary on its standardization, reliability studies, and validity evidence. Administration and scoring changes from the RIAS are taught followed by presentation of guidelines for interpretation. The importance of assessment of complex memory functions in intellectual assessment is reviewed. This workshop is eligible for 3 hours of valuable Continuing Education Credit. It is recommended that attendees have access to the RIAS-2 Professional Manual, the RIAS-2 Test Books, and the TOGRA Manual each purchasable through the instrument's publisher, Psychological Assessment Resources, Inc. For details, visit: http://www4.parinc.com/
More cost-effective and time-efficient than attending an in-person workshop but covering the same content, this innovative On Demand training is the first-of-its-kind.
Individual
Purchase attendance for a single individual
Group
To be considered a group, 10 or more individuals are required to participate. Purchase attendance for your team, facility, or library.
Eliminate hidden costs of in-person trainings including travel, hotel, food, and gas
Increase the reliability and accuracy of your intelligence testing using the RIAS-2
Earn 3 Continuing Education Credits from APA, ASWB, NBCC, ANCC, NAADAC, and CPA
Cecil R. Reynolds is an Emeritus Professor of Educational Psychology, Professor of Neuroscience, and Distinguished Research Scholar at Texas A&M University. He is the author of over 300 scholarly publications, author or editor of more than 50 books, and the creator of numerous widely-used psychological tests including the Behavior Assessment System for Children, the BASC, the most frequently administered test of its type in the English-speaking world, the Reynolds Intellectual Assessment Scales, the Test of Memory and Learning, the School Motivation and Learning Strategies Inventory, and 28 other commercially published tests.
Dr. Reynolds is a past president of the National Academy of Neuropsychology (NAN) and APA Divisions 5, 16, and 40 (Evaluation, Measurement, and Statistics; School Psychology; and Clinical Neuropsychology). He serves on 11 journal editorial boards. He is past editor of Applied Neuropsychology, Archives of Clinical Neuropsychology, and of the APA journal, Psychological Assessment, and a former Associate Editor of School Psychology Quarterly. In April of 2015, he began a 6-year term as editor in chief of the new APA open access journal, Archives of Scientific Psychology. Dr. Reynolds has received awards recognizing him for excellence in research (e.g., the Lightner Witmer Award, the Senior Scientist Award from APA Division of School Psychology, and NAN's Distinguished Neuropsychologist Award, the Academy's highest award, and the APA's Samuel Messick Award for Lifetime Contributions to Measurement Science). His service to the profession and to the youth of America has been recognized through the President's Gold Medal for Service to NAN along with the Academy's Distinguished Service Award, as well as the UNC at Wilmington 50th Anniversary Razor Walker Award for Service to the Youth of America and the APA Division of School Psychology Jack Bardon Distinguished Service Award among others.