Mental Disability Law Training Series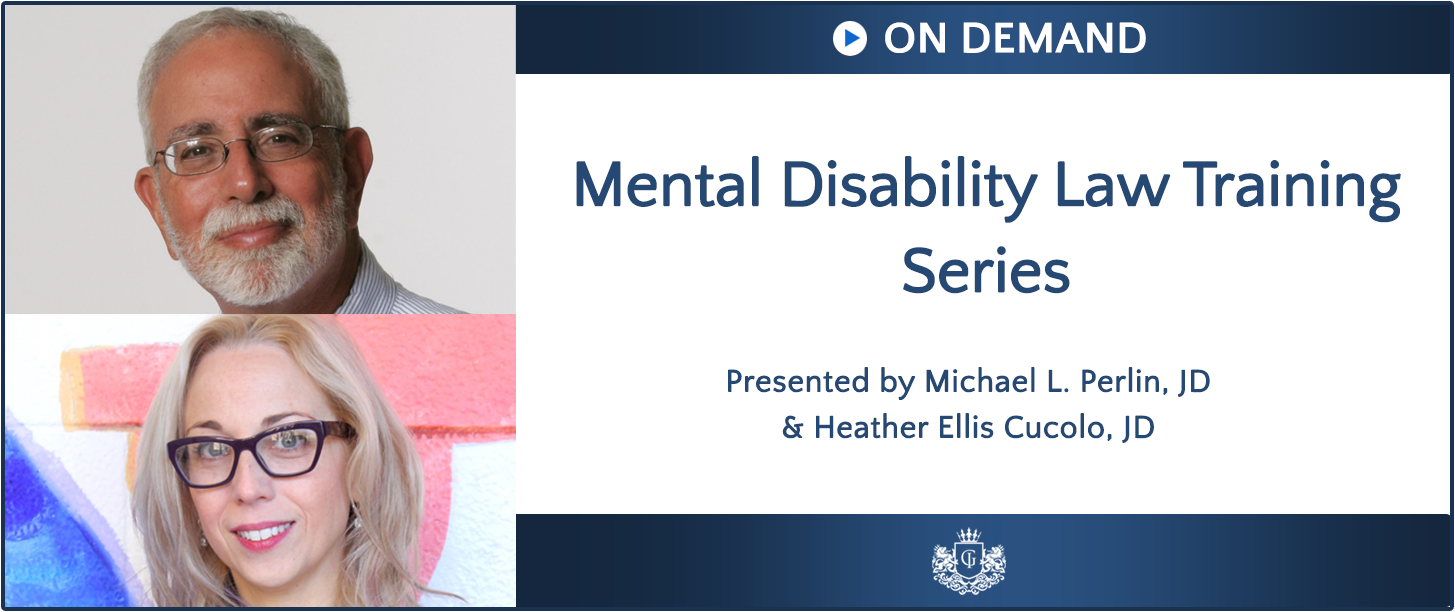 The field of mental disability law focuses on the intersection of behavioral health and jurisprudence, with implications for attorneys, judges, expert witnesses, psychologists, psychiatrists, social workers, counselors, and nurses. Presented by two of the nation's leading mental health legal scholars, this groundbreaking training series includes courses on topics including mental disability and criminal law, mental health issues in jails and prisons, criminal justice reform and specialty courts, therapeutic jurisprudence, and trauma. Through these courses you will learn the essential elements of mental disability law: substantive and procedural, constitutional and statutory, institutional and community. You will gain the ability to deconstruct the various categories of "competency" (to stand trial, waive counsel, plead guilty, other), as well as to identify the empirical and behavioral myths that have developed around the insanity defense. Further, you will obtain expertise in different types of commitment, the right to refuse treatment, international human rights law, the dynamics of the attorney/expert relationship, and the stigma of mental illness
Each course in this self-paced series can be completed at your convenience and is collectively eligible for over 30 hours of Continuing Education Credit from over 150 professional organizations.
More cost-effective and time-efficient than attending an in-person workshop but covering the same content, this innovative On Demand training is the first-of-its-kind.
Eliminate hidden costs of in-person trainings including travel, hotel, food, and gas
Minimize time away from the office and family by training in-house
Earn Continuing Education Credits from APA, ASWB, NBCC, ANCC, NAADAC, and CPA
Michael L. Perlin, JD is Professor of Law Emeritus at New York Law School (NYLS), founding director of NYLS's Online Mental Disability Law Program, and founding director of NYLS's International Mental Disability Law Reform Project in its Justice Action Center. Author of over 30 books and 300 articles on topics including mental illness and the criminal justice system, mental disability law, and sexual violent predator legislation, Professor Perlin has been the recipient of numerous prestigious awards including the American Psychiatric Association and American Academy of Psychiatry and Law's Manfred Guttmacher Award. Before becoming a professor, Perlin was a Deputy Public Defender in New Jersey as well as the director of the Division of Mental Health Advocacy for the New Jersey Department of the Public Advocate.
Heather Ellis Cucolo, JD is an adjunct professor and the current director of New York Law School's Online Mental Disability Law Program. In addition to representing individuals facing civil commitment under both the New Jersey Mental Hygiene Law and the New Jersey's Sexually Violent Predators Act, Professor Cucolo has published and lectured internationally on the representation and treatment of sexual offenders. She is recognized as one of the premiere experts in sexual violent predator law and has counseled attorneys, judges and clinicians on law and procedure in civil commitment proceedings and issues involving persons suffering from a mental disability or illness within the criminal justice system.