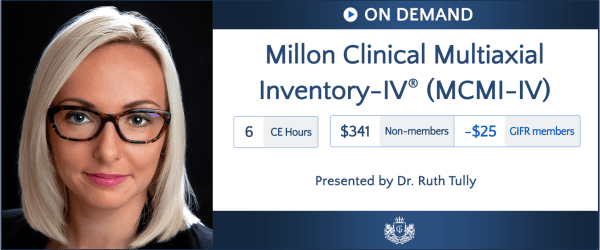 As a guide, the MCMI-IV training focuses on the background as well as its administration, scoring procedures, and interpretation/reporting of the popular Millon Clinical Multiaxial Inventory-IV (MCMI-IV; Millon, Grossman & Millon, 2015) personality assessment. MCMI-IV is a holistic personality assessment, developed from MCMI-III with over 30 years of research behind it, that is useful for supporting and aiding formulation of a client's difficulties. MCMI-IV is less time consuming than other personality assessments. The sub-scales of the tools are split into personality and clinical syndrome scales with modifying/random response indicators included to help consideration of wider factors influencing responding. Given the wealth of clinical information gained through using the tool, participating in specialist training is the key to thorough, accurate, and defensible assessment. The MCMI-IV can be used with clinical populations within many settings e.g. clinical, forensic, medical, educational (adult), or therapy/counselling. It can contribute to assessments of emotional, behavioural, and interpersonal difficulties, as well as risk assessments. The primary aim of the MCMI-IV workshop is to ensure that delegates feel confident when assessing clients using the MCMI-IV, and to develop awareness of how the MCMI-IV can be interpreted and reported. At the end of this training you will be able to… • Describe the background and theory applying to the MCMI-IV. • Explain and apply administration procedures. • Apply the process of scoring the tool via online scoring. • Analyze MCMI-IV results to interpret the findings. Officially authorized by the Millon Clinical Multiaxial Inventory-IV® (MCMI-IV)'s publisher, this workshop is eligible for 6 hours of valuable Continuing Education Credit. It is recommended that attendees have access to the MCMI-IV Manual, purchasable through the instrument's publisher, Pearson. For details, visit: http://www.pearsonclinical.com/
More cost-effective and time-efficient than attending an in-person workshop but covering the same content, this innovative on demand training is the first-of-its-kind.
Individual
Purchase attendance for a single individual
Group
To be considered a group, 10 or more individuals are required to participate. Purchase attendance for your team, facility, or library.
Eliminate hidden costs of in-person trainings including travel, hotel, food, and gas
Increase the reliability and accuracy of your personality assessments using the MCMI-IV
Earn 6 Continuing Education Credits from APA, ASWB, NBCC, ANCC, NAADAC, and CPA
Dr. Ruth Tully (BSc(Hons), MSc, DForenPsy, CPsychol, EuroPsy, AFBPsS, CSci, MAE, AFEHA) is a Registered and Chartered Forensic Psychologist in the UK. Dr. Tully is Clinical Lead of Tully Forensic Psychology Ltd, where she and her team of Forensic and Clinical Psychologists work throughout the UK in the provision of psychological assessment, treatment/therapy, consultancy, and training. Dr. Tully's wider experience includes working with adults and young people in secure psychiatric healthcare, social care, prison, and community settings. Dr. Tully has an active research, publication, and public speaking profile nationally and internationally. She is considered a leading authority on violence and sex offender risk assessment in relation to research, clinical work, and training professionals. For more information about Dr. Tully or Tully Forensic Psychology Ltd, please visit www.tullyforensicpsychology.com I www.tullytraining.com