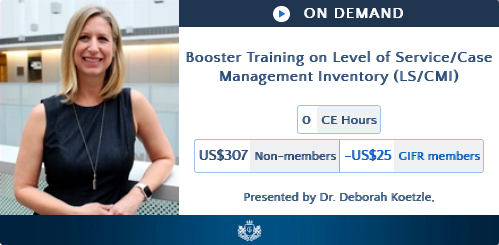 This 4-hour booster training is designed to serve as a refresher on the Level of Service/Case Management Inventory (LS/CMI). Following the Risk-Need-Responsivity Model of offender rehabilitation, the LS/CMI™ is a fully functioning case management tool and assessment that measures the risk and need factors empirically associated with recidivism as well as offender strengths, supervision considerations, and factors of late adolescent and adult offenders. The LS/CMI™ has been found to produce accurate and reliable assessments of recidivism risk across sexes, ethnicities, and countries. The training consists of 6 sections. Users are first provided with a review of the principles of Risk, Need, and Responsivity, and Professional Discretion to increase users understanding of the importance of structured, validated risk/need assessments. Next, the LS/MCI tool is discussed, including a review of each section. Following this, a review of assessment practices is provided, with tips for conducting a valid interview. Despite best efforts, mistakes sometimes occur. To help prevent this, the fourth section describes common assessment mistakes and tips for avoiding them. The standardized scoring rules are also reviewed, with an emphasis on common errors. The training concludes with a video scoring exercise allowing users to test their understanding of the scoring criteria, a discussion of the scoring, and some general points to remember.
This training is designed for individuals who have previously completed a LS/CMI training and are certified to conduct assessments. Professionals who wish to use the LS/CMI in practice but have not been previously trained should take Dr. Stephen Wormith's comprehensive LS/CMI On Demand training (https://gifrinc.com/ls-cmi/).
At the end of this training you will be able to…
Describe the principles of risk, need, and responsivity
Identify types of questions that should and should not be used when conducting assessment interviews
List common assessment mistakes and describe techniques to prevent them
Explain common scoring mistakes
Apply the standardized scoring criteria with confidence
Individual
Purchase attendance for a single individual
Group
To be considered a group, 10 or more individuals are required to participate. Purchase attendance for your team, facility, or library.
Dr. Deborah Koetzle is an Associate Professor and the Executive Officer of the Doctoral Program in Criminal Justice at John Jay College of Criminal Justice/CUNY and a Fellow with the University of Cincinnati Corrections Institute. Dr. Koetzle's expertise centers around the topic of effective interventions for justice-involved individuals, with an emphasis on treatment effectiveness, risk assessment, program implementation and fidelity, and problem-solving courts. She has served as a consultant to local, state, and federal agencies on the topic of assessment, treatment, and program fidelity within both institutional and community-based programs, including the El Salvador penal system, the New York City Department of Probation, the Division of Criminal Justice Services in New York. She has been recognized as an expert on correctional rehabilitation by the United States Administrative Office of the Courts and serves as an expert consultant on the Evidence Assessment of Justice Programs and Practices grant awarded to Development Services Group by the Office of the Assistant Attorney General.
Dr. Koetzle's research has appeared in Justice Quarterly, and the Journal of Research in Crime and Delinquency and she is a co-author of What Works (and Doesn't) in Reducing Recidivism and co-editor of Drug Courts and the Criminal Justice System.
The Global Institute of Forensic Research, Inc is approved by the American Psychological Association, National Board of Certified Counselors, National Association of Alcohol and Drug Abuse Counselors, Canadian Psychological Association, and the New York Department of Education to sponsor continuing education trainings. Global Institute of Forensic Research (GIFR) has been approved by NBCC as an approved Continuing Education provider, ACEP No. 6711. Programs that do not qualify for NBCC credit are clearly identified. GIFR is solely responsible for all aspects of the programs. The American Nurses Credentialing Center accepts Continuing Education Credit sponsored by the American Psychological Association. The Global Institute of Forensic Research, Inc. (provider #1371) is also approved as a provider for social work continuing education by the Association of Social Work Boards (ASWB) www.aswb.org, through the Approved Continuing Education (ACE) program. ASWB Approval Period: 6/8/2022-6/8/2025. Social workers should contact their regulatory board to determine course approval. ­The Global Institute of Forensic Research, Inc maintains responsibility for this program and its contents. Refund/Cancellation Policy: If you wish to request a refund on account of technical difficulties, please contact [email protected]. The Global Institute of Forensic Research, Inc. reports no conflicts of interest in the development and sponsorship of this training. The Global Institute of Forensic Research, Inc receives no commercial support for this Continuing Education program or from its presenter(s). The number of CE Credits provided for this training is commensurate to its length in hours. The level of instruction of this training is "Introductory". The format for this training is homestudy without interactivity. The intended audience for this training includes mental health, correctional, and legal professionals.
Note 1: The CPA's approval of an individual, group, or organization as a CE Sponsor or Provider is restricted to the activities described in the approved application or annual report form. The CPA's approval does not extend to any other CE activity the Sponsor or Provider might offer. In granting its approval, the CPA assumes no legal or financial obligations to Sponsors, Providers, or to those individuals who might participate in a Sponsor or Provider's CE activities or programs. Further, responsibility for the content, provision, and delivery of any CE activity approved by the CPA remains that of the CE Sponsor or Provider. The CPA disclaims all legal liability associated with the content, provision, and delivery of the approved CE activity.