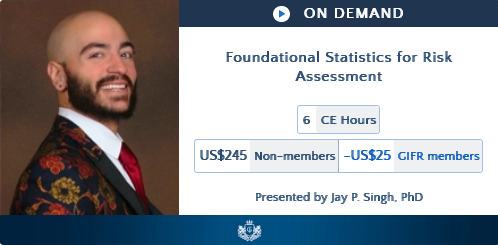 In recent years, the use of structured risk assessment tools to assess recidivism risk has been increasing in criminal justice systems, mental health services, and the interface between them. Supporting the use of such instruments is a large evidence base that has grown exponentially in recent years. The aim of this comprehensive training is to provide attendees with the statistical knowledge necessary to be thoughtful consumers of peer-reviewed research studies on risk assessment tools so as to be able to apply study findings into practice. First, descriptive and analytic epidemiological principles will be described and their application to the field of forensic risk assessment explored. Second, null hypothesis statistical testing will be explained. Third, parametric and non-parametric statistical tests of differences will be reviewed, as will different approaches to correlation and regression. Fourth, the differences between discrimination and calibration effect sizes used to measure the accuracy will be discussed. Fifth, common statistical criticisms regarding the use of risk assessment tools will be presented. Sixth, statistics used to measure the inter-rater reliability and internal consistency of risk assessment tools will be identified. Finally, differences between the four main types of reviewing will be examined (narrative reviews, systematic reviews, meta-analyses, metareviews). Practical examples and illustrative videos will be used to illustrate key points. At the end of this training, you will be able to…
Examine the difference between descriptive epidemiology and analytic epidemiology
Describe strengths and weaknesses of effect sizes most commonly reported in risk assessment tool studies
Discuss how null hypothesis statistical testing is used in research studies
Differentiate between parametric and non-parametric statistics
Discuss how risk assessment tools are statistically developed
Differentiate between discrimination and calibration effect sizes
Examine common statistical criticisms regarding the use of risk assessment tools
Identify the four major types of reviews used to synthesize research
More cost-effective and time-efficient than attending an in-person workshop but covering the same content, this innovative On Demand training is the first-of-its-kind.
Individual
Purchase attendance for a single individual
Group
To be considered a group, 10 or more individuals are required to participate. Purchase attendance for your team, facility, or library.
Eliminate hidden costs of in-person trainings including travel, hotel, food, and gas
Obtain statistical knowledge necessary to be thoughtful consumers of peer-reviewed research studies on risk assessment tools so as to be able to apply study findings into practice.
Earn 6 Continuing Education Credits from APA, ASWB, NBCC, ANCC, NAADAC, and CPA
Jay P. Singh, PhD, PhD is a Fulbright Scholar, Clinical Associate at the University of Pennsylvania, and Visiting Scholar at the University of Cambridge. Former Senior Clinical Researcher in Forensic Psychiatry and Psychology for the Department of Justice of Switzerland and author of over 75 peer-reviewed publications and books, he completed his graduate doctoral studies in psychiatry at the University of Oxford and clinical psychology at Universitat Konstanz. Since this time, he has lectured for Harvard, Yale, Oxford, Cambridge, Columbia, Cornell, Brown, Dartmouth, and UPenn. He was named the youngest tenured Full Professor in Norway in 2014 and is currently affiliated with the University of Pennsylvania and the University of Cambridge. A popular guest on both national and local television and radio, Dr. Singh's work has been featured in leading newspapers such as The Washington Post and magazines such as People. He has been the recipient of awards from organizations including APA Divisions 41 and 52, the Royal College of Psychiatrists, the European Congress on Violence in Clinical Psychiatry, the Society for Research in Child Development, and the Society for Research in Adolescence.
The Global Institute of Forensic Research, Inc is approved by the American Psychological Association, National Board of Certified Counselors, National Association of Alcohol and Drug Abuse Counselors, Canadian Psychological Association, and the New York Department of Education to sponsor continuing education trainings. The American Nurses Credentialing Center accepts Continuing Education Credit sponsored by the American Psychological Association. The Global Institute of Forensic Research, Inc. (provider #1371) is also approved as a provider for social work continuing education by the Association of Social Work Boards (ASWB) www.aswb.org, through the Approved Continuing Education (ACE) program. ACE provider approval period: 6/8/2022-6/8/2025. Social workers should contact their regulatory board to determine course approval. ­The Global Institute of Forensic Research, Inc maintains responsibility for this program and its contents. Refund/Cancellation Policy: If you wish to request a refund on account of technical difficulties, please contact [email protected] The Global Institute of Forensic Research, Inc. reports no conflicts of interest in the development and sponsorship of this training. The Global Institute of Forensic Research, Inc receives no commercial support for this Continuing Education program or from its presenter(s). The number of CE Credits provided for this training is commensurate to its length in hours. The level of instruction of this training is "Introductory". The format for this presentation is live webinar training with interactivity. The intended audience for this training includes mental health, correctional, and legal professionals.
Note 1: The CPA's approval of an individual, group, or organization as a CE Sponsor or Provider is restricted to the activities described in the approved application or annual report form. The CPA's approval does not extend to any other CE activity the Sponsor or Provider might offer. In granting its approval, the CPA assumes no legal or financial obligations to Sponsors, Providers, or to those individuals who might participate in a Sponsor or Provider's CE activities or programs. Further, responsibility for the content, provision, and delivery of any CE activity approved by the CPA remains that of the CE Sponsor or Provider. The CPA disclaims all legal liability associated with the content, provision, and delivery of the approved CE activity.