Corrections Training Series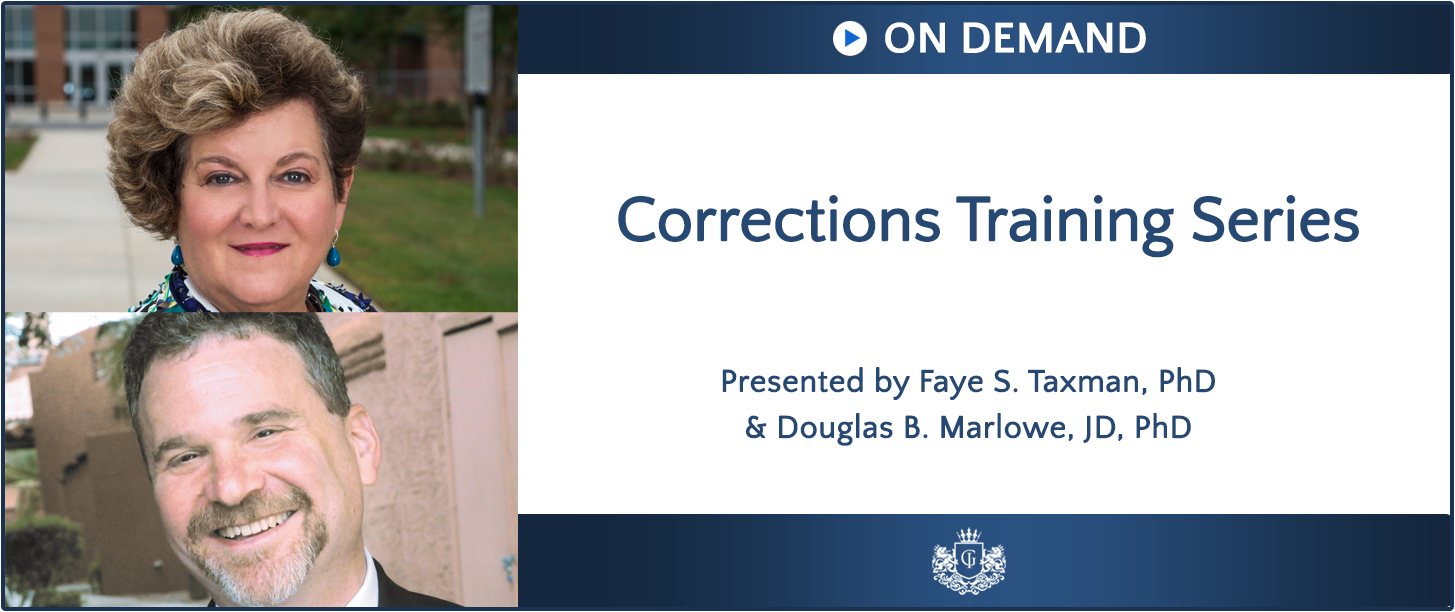 The field of corrections focuses on the supervision of persons arrested for, convicted of, or sentenced for criminal offenses, with implications for correctional officers, probation and parole officers, psychologists, social workers, counselors, substance use professionals, and nurses involved in both institutional as well as community corrections. Presented by international leaders in the field of corrections, this groundbreaking training series will assist you in developing fundamental skills such as how to target criminal justice interventions by Risk-Need-Responsivity, how to effectively use rewards and sanctions to promote positive outcomes, how to engage clients in their own rehabilitation and manage compliance, and how to create actionable case plans. Further, you can obtain certified training in the revolutionary evidence-based treatment program for justice-involved persons diagnosed with mental illnesses, Changing Lives and Changing Outcomes.
Each course in this series can be completed at your convenience and is collectively eligible for over 20 hours of Continuing Education Credit from over 150 professional organizations.
More cost-effective and time-efficient than attending an in-person workshop but covering the same content, these innovative On Demand trainings are the first-of-their-kind.
Eliminate hidden costs of in-person trainings including travel, hotel, food, and gas
Minimize time away from the office and family by training in-house
Earn Continuing Education Credits from Over 150 National, State, & Provincial Boards
Faye S Taxman, Ph.D. is a University Professor in the Criminology, Law and Society Department and Director of the Center for Advancing Correctional Excellence at George Mason University. Dr. Taxman is recognized for her work in the development of the seamless systems of care models that link the criminal justice with other service delivery systems as well as reengineering probation and parole supervision services, and organizational change models. Her work covers the breadth of the correctional system from jails and prisons to community corrections and adult and juvenile offenders, including all types of interventions and system improvement factors. She has had numerous grants from the National Institute on Drug Abuse, National Institute of Justice, National Institute of Corrections, Office of National Drug Control Policy, and Bureau of Justice Assistance. Dr. Taxman has published over 125 articles and is on the Editorial Boards of the Journal of Experimental Criminology, Criminology and Public Policy, and Journal of Offender Rehabilitation.
Douglas B. Marlowe, JD, PhD, is a Senior Scientific Consultant for the National Association of Drug Court Professionals (NADCP), and a Senior Science & Policy Advisor for Alcohol Monitoring Systems. Previously, he was the Chief of Science, Law & Policy for NADCP, the Director of Law & Ethics Research at the Treatment Research Institute, and Adjunct Associate Professor of Psychiatry at the University of Pennsylvania School of Medicine. A lawyer and clinical psychologist, Dr. Marlowe focuses on the impact of coercion in substance use disorder treatment, the effects of drug courts and other rehabilitation programs for persons with substance use disorders involved in the justice system, and behavioral treatments for persons with substance use disorders and criminal involvement. He is a Fellow of the American Psychological Association (APA) and the College of Physicians of Philadelphia, and has received proficiency certification in the treatment of psychoactive substance use disorders from the APA College of Professional Psychology. Dr. Marlowe has published over 175 articles, monographs, books, and book chapters on topics of correctional rehabilitation, forensic psychology, and treatment of substance use disorders.