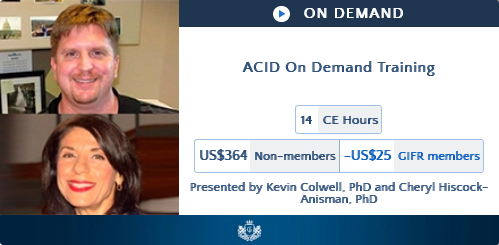 This comprehensive course by two of the leading clinical scholars in the field of investigative interviewing provides practitioners with essential skillsets needed to detect deception. Participants will be taught to use a report-writing model for the assessment and presentation of confession evidence and to select which investigative interview to use for different assessment contexts. Investigative interviews covered include the Assessment Criteria Indicative of Deception (ACID), the Cognitive Interview, and the Reality Interview. Participants will then be taught how to apply the theory of Differential Recall Enhancement to facilitate maximal recall from honest respondents while making deception more difficult and more obvious. Case study interviews and sample transcripts of honest and deceptive statements will be included throughout the training. By the end of the course, participants will be able to interview to facilitate the detection of deception, and possess the skills necessary to detect deception. Presented by the developers of the ACID model, this training is eligible for 14 hours of valuable Continuing Education credit.
More cost-effective and time-efficient than attending an in-person workshop but covering the same content, this innovative On Demand training is the first-of-its-kind.
Individual
Purchase attendance for a single individual
Group
To be considered a group, 10 or more individuals are required to participate. Purchase attendance for your team, facility, or library.
Eliminate hidden costs of in-person trainings including travel, hotel, food, and gas
Increase the reliability and accuracy of your interviews using the ACID
Earn 14 Continuing Education Credits from APA, ASWB, NBCC, ANCC, NAADAC, and CPA
Kevin Colwell, PhD is Professor of Psychology at Southern Connecticut State University, where he is the Director of the Office of Psychological Assessment. Dr. Colwell studies investigative interviewing, credibility assessment, deception, and the clinical and forensic assessment of malingering. He has worked with Dr. Cheryl Hiscock-Anisman to create Assessment Criteria Indicative of Deception (ACID) – a system of interviewing and assessment that maximizes and then highlights difference between honest and deceptive responding – and is the developer of the Test of Malingered Incompetence (TOMI). He has worked for the University of Texas Medical Branch in psychiatric hospitals which serves the Texas prison system for adolescents and adults as well as in a forensic hospital for the California Department of Developmental Services, the Child Trauma Academy, and the Psychological Services Center at Sam Houston State University.
Cheryl Hiscock-Anisman, PhD is Professor of Psychology at National University and earned her Doctorate in Educational & Clinical Psychology at Wayne State University. Prior to joining National University, she was a Tenured Professor at Sam Houston State University and was the Stress Management Coordinator at The Methodist Hospital, Baylor College of Medicine. At National University, she teaches graduate courses in the Marriage and Family Therapy Program. Dr. Hiscock-Anisman consults on topics of integrative health and wellness, conducting workshops throughout the U.S. on mindfulness, self-acceptance, empowerment, and healing health providers. She has an international reputation as an expert in the detection of deception and has been cited by both NPR and the New York Times. She has over 25 peer reviewed journal articles and over 60 conference presentations.
The Global Institute of Forensic Research, Inc is approved by the American Psychological Association, National Board of Certified Counselors, National Association of Alcohol and Drug Abuse Counselors, Canadian Psychological Association, and the New York Department of Education to sponsor continuing education trainings. Global Institute of Forensic Research (GIFR) has been approved by NBCC as an approved Continuing Education provider, ACEP No. 6711. Programs that do not qualify for NBCC credit are clearly identified. GIFR is solely responsible for all aspects of the programs. The American Nurses Credentialing Center accepts Continuing Education Credit sponsored by the American Psychological Association. The Global Institute of Forensic Research, Inc. (provider #1371) is also approved as a provider for social work continuing education by the Association of Social Work Boards (ASWB) www.aswb.org, through the Approved Continuing Education (ACE) program. ASWB Approval Period: 6/8/2022-6/8/2025. Social workers should contact their regulatory board to determine course approval. ­The Global Institute of Forensic Research, Inc maintains responsibility for this program and its contents. Refund/Cancellation Policy: If you wish to request a refund on account of technical difficulties, please contact [email protected]. The Global Institute of Forensic Research, Inc. reports no conflicts of interest in the development and sponsorship of this training. The Global Institute of Forensic Research, Inc receives no commercial support for this Continuing Education program or from its presenter(s). The number of CE Credits provided for this training is commensurate to its length in hours. The level of instruction of this training is "Introductory". The format for this training is homestudy without interactivity. The intended audience for this training includes mental health, correctional, and legal professionals.
Note 1: The CPA's approval of an individual, group, or organization as a CE Sponsor or Provider is restricted to the activities described in the approved application or annual report form. The CPA's approval does not extend to any other CE activity the Sponsor or Provider might offer. In granting its approval, the CPA assumes no legal or financial obligations to Sponsors, Providers, or to those individuals who might participate in a Sponsor or Provider's CE activities or programs. Further, responsibility for the content, provision, and delivery of any CE activity approved by the CPA remains that of the CE Sponsor or Provider. The CPA disclaims all legal liability associated with the content, provision, and delivery of the approved CE activity.