STABLE-2007 & ACUTE-2007 Live Webinar Training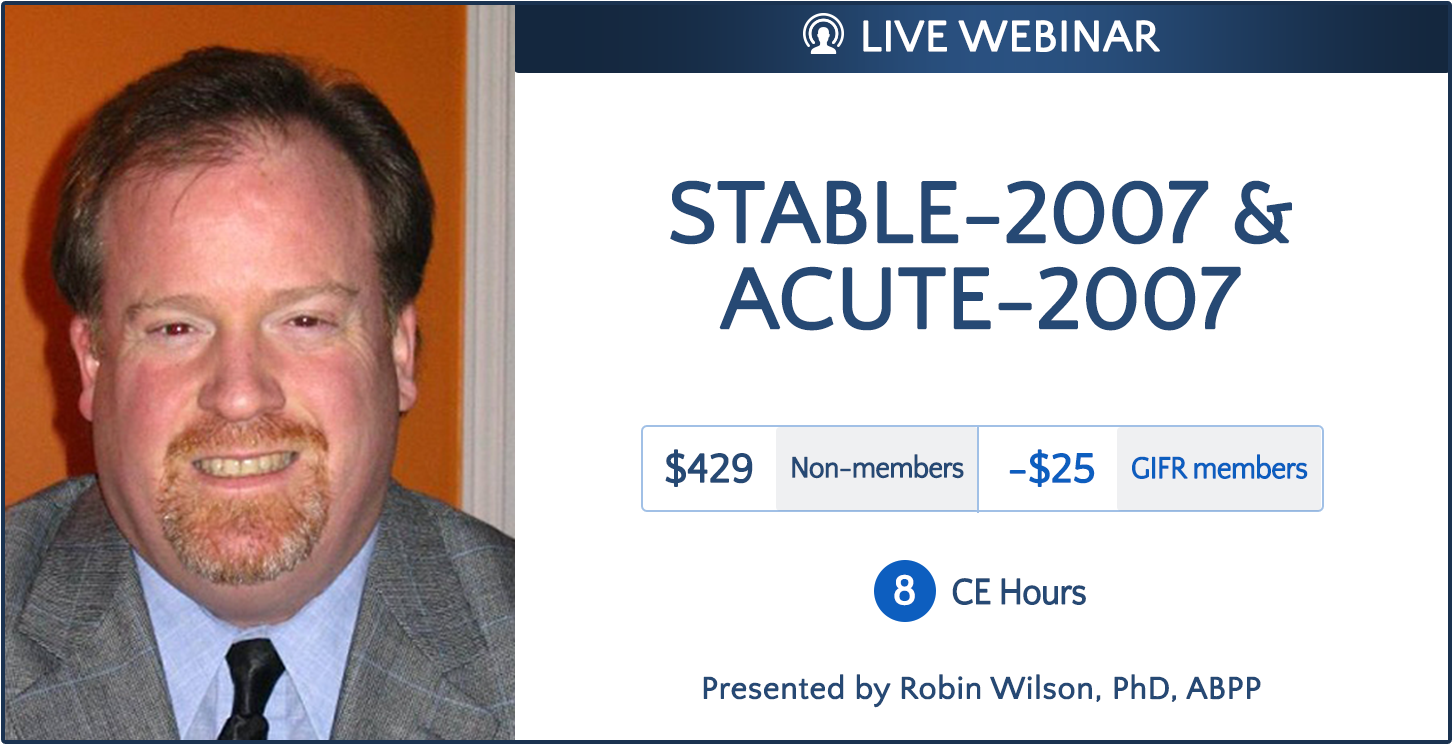 Dynamic sexual recidivism risk assessments are increasingly required in behavioral health, correctional, and court settings. Recent surveys suggest that among the most widely-researched and commonly-used dynamic risk assessment tools for sex offenders are the STABLE-2007 and the ACUTE-2007. Presented by a certified STABLE-2007 and ACUTE-2007 trainer, this live and interactive workshop will train you in the use of the STABLE-2007 and ACUTE-2007 while earning 8 hours of valuable Continuing Education Credit.
The development of the STABLE-2007 and ACUTE-2007 will be discussed, item-by-item instructions will be given on how to reliably score the measures and interpret their findings, and guidance will be provided on how to apply STABLE-2007 and ACUTE-2007 reporting conventions. Case studies will be employed to allow you to practice using the tools and to learn to avoid common administration errors.
At the end of this training you will be able to…
Describe the administration procedures for the Stable-2007 & Acute-2007
Practice scoring the Stable-2007 & Acute-2007 using case studies
Review peer-reviewed research on the Stable-2007 & Acute-2007
Identify the rationale for developing the Stable-2007 & Acute-2007
Identify the structural properties of the Stable-2007 & Acute-2007
Review the reliability and validity of Stable-2007 & Acute-2007 scores
More cost-effective and time-efficient than attending an in-person workshop but covering the same content, this innovative live training is the first-of-its-kind.
Individual
Purchase attendance for a single individual
Group
To be considered a group, 10 or more individuals are required to participate. Purchase attendance for your team, facility, or library.
The Global Institute of Forensic Research (GIFR) hosts live webinars on Cisco Webex Meetings, an online platform. Want to test if your web browser is compatible with Cisco Webex Meetings? Click here: https://www.webex.com/test-meeting.html
Q. Do I have to have a webcam to participate in the live webinar?
A. No. Web cams for attendees are not required. As long as you have reliable internet and working computer speakers, you will be all set to go!
Q. What if I don't have computer speakers? Can I still attend the live webinar?
A. If you are in the United States you will be able to call in using your phone if you do not have computer speakers. Upon registering, we will send you access instructions that include a US toll free number to call if you need to access audio via a phone. If you are outside of the US, computer speakers are required.
Q. What web browser should I use to participate in the live webinar?
A. We recommend utilizing Google Chrome, Internet Explorer, Microsoft Edge, or Mozilla Firefox. Safari works too but we have found that it tends to not play as nicely with the WebEx application. For a free download of Google Chrome, please visit and follow the steps here: https://www.google.com/chrome/
Q. Can I access live webinars via my tablet or smart phone?
To check if your mobile device can support the Webex Meetings app, please click here.
Eliminate hidden costs of in-person trainings including travel, hotel, food, and gas
Increase the reliability and accuracy of your sex offender risk assessments using the STABLE-2007 and ACUTE-2007
Earn 8 Continuing Education Credits from APA, ASWB, NBCC, ANCC, NAADAC, and CPA
"I am grateful to our agency and GIFR for making this training accessible and affordable. The knowledge provided is essential for my work. Learning the material in GIFR's format with interactive options and case scenarios was very effective."
"Between the quality of Dr. Wilson's presentation, both in terms of content and style, and GIFR's high level of customer service, I would rank this as the best Web-based CE program in which I have ever participated."
"The instructor was HILARIOUS and had decades of clinical experience which really added to the experience. He was well-informed, engaging, easy-to-follow, and responsive to questions which I appreciated. I had never thought about using online training before this, but this was simple and high-quality."
"The real-world examples and practice using both the Stable-2007 and Acute-2007 brought the instruments to life, and I am now much more comfortable administering them as part of my forensic evaluations. I discovered a number of misconceptions I had about the scoring criteria for the instruments which I am now able to correct thanks to the presenter, who was highly knowledgeable and down-to-earth."
Robin Wilson, PhD, ABPP is a certified STABLE-2007 & ACUTE-2007 trainer approved by the developers of the instrument. A researcher, educator, and board certified clinical psychologist who has worked with sexual offenders in hospital, correctional, and private practice settings for more than 30 years, Dr. Wilson has published over 100 scientific articles, book chapters, and other monographs. He maintains an international practice based in Florida and regularly consults on STABLE-2007 and ACUTE-2007 scoring questions. Past President of the Florida Association for the Treatment of Sexual Abusers, Dr. Wilson has served as an expert witness in many Court proceedings and as a member of law enforcement panels regarding community risk management.
The Global Institute of Forensic Research, Inc is approved by the American Psychological Association, National Board of Certified Counselors, National Association of Alcohol and Drug Abuse Counselors, Canadian Psychological Association, and the New York Department of Education to sponsor continuing education trainings. The American Nurses Credentialing Center accepts Continuing Education Credit sponsored by the American Psychological Association. The Global Institute of Forensic Research, Inc. (provider #1371) is also approved as a provider for social work continuing education by the Association of Social Work Boards (ASWB) www.aswb.org, through the Approved Continuing Education (ACE) program. ASWB Approval Period: June 8, 2019 – June 8, 2022. Social workers should contact their regulatory board to determine course approval. ­The Global Institute of Forensic Research, Inc maintains responsibility for this program and its contents. Refund/Cancellation Policy: If you wish to request a refund on account of technical difficulties, please contact [email protected] The Global Institute of Forensic Research, Inc. reports no conflicts of interest in the development and sponsorship of this training. The Global Institute of Forensic Research, Inc receives no commercial support for this Continuing Education program or from its presenter(s). The number of CE Credits provided for this training is commensurate to its length in hours. The level of instruction of this training is "Introductory". The format for this presentation is live webinar training with interactivity. The intended audience for this training includes mental health, correctional, and legal professionals.
Note 1: The CPA's approval of an individual, group, or organization as a CE Sponsor or Provider is restricted to the activities described in the approved application or annual report form. The CPA's approval does not extend to any other CE activity the Sponsor or Provider might offer. In granting its approval, the CPA assumes no legal or financial obligations to Sponsors, Providers, or to those individuals who might participate in a Sponsor or Provider's CE activities or programs. Further, responsibility for the content, provision, and delivery of any CE activity approved by the CPA remains that of the CE Sponsor or Provider. The CPA disclaims all legal liability associated with the content, provision, and delivery of the approved CE activity.