Human Trafficking Awareness, Advocacy & Action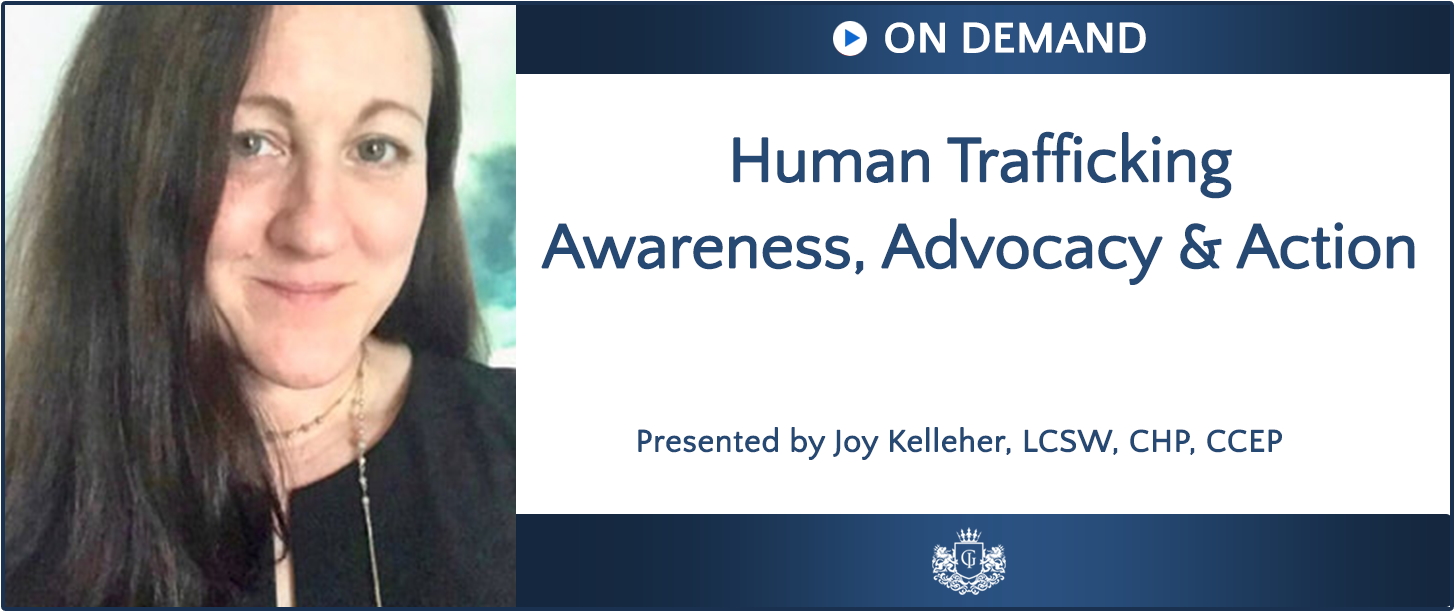 As the methods of traffickers become increasingly sophisticated and targeted to exploit the most vulnerable populations, it is in the public's best interest to implement evidence based best practices proven to prevent and thwart human trafficking efforts. The Chair of the Development Committee for SAFE Coalition for Human Rights will provide comprehensive and practical workshops to aid attendees in maximizing their efficacy in counteracting trafficking efforts. Educating participants about human trafficking and facilitating knowledge of how to identify the risks, signs and symptoms are key aims of the available courses.
These courses are appropriate for direct service, clinical providers, foster parents, parents, administrative personnel in health and human service settings, medical personnel, legal professionals, people in the community or who interface regularly with the public.
More cost-effective and time-efficient than attending an in-person workshop but covering the same content, these innovative On Demand trainings are the first-of-their-kind.
Eliminate hidden costs of in-person trainings including travel, hotel, food, and gas
Minimize time away from the office and family by training in-house
Earn Continuing Education Credits from Over 150 National, State, & Provincial Boards
Joy Kelleher, LCSW, CHP, CCEP. With over 25 years of experience as a licensed clinician, social worker and behavioral health administrator, Joy Kelleher has an eclectic background of professional experiences including extensive international work. From an administrative standpoint, areas of professional interest include corporate compliance, ethics, quality assurance and using data to inform practice. Joy is a Certified Compliance and Ethics Professional (CCEP), a Certified HIPAA Professional (CHP). Clinically working with children and families from a lens of trauma informed practice and positive psychology and specialty work with adults with severe and persistent mental illness are key areas of Joy's experience and expertise. Joy is also passionate about advocacy and volunteer work in her community. While working as a social worker in Ireland, Joy was introduced to the growing epidemic of human trafficking. Spurred to action, she serves as the Chair of the Development Committee for SAFE Coalition for Human Rights, a volunteer based, clinician supported, and survivor driven grassroots organization based in the USA. Joy is a surveyor for CARF, an international accreditation body.