Best Practices in Expert Witness
Testimony & Forensic Ethics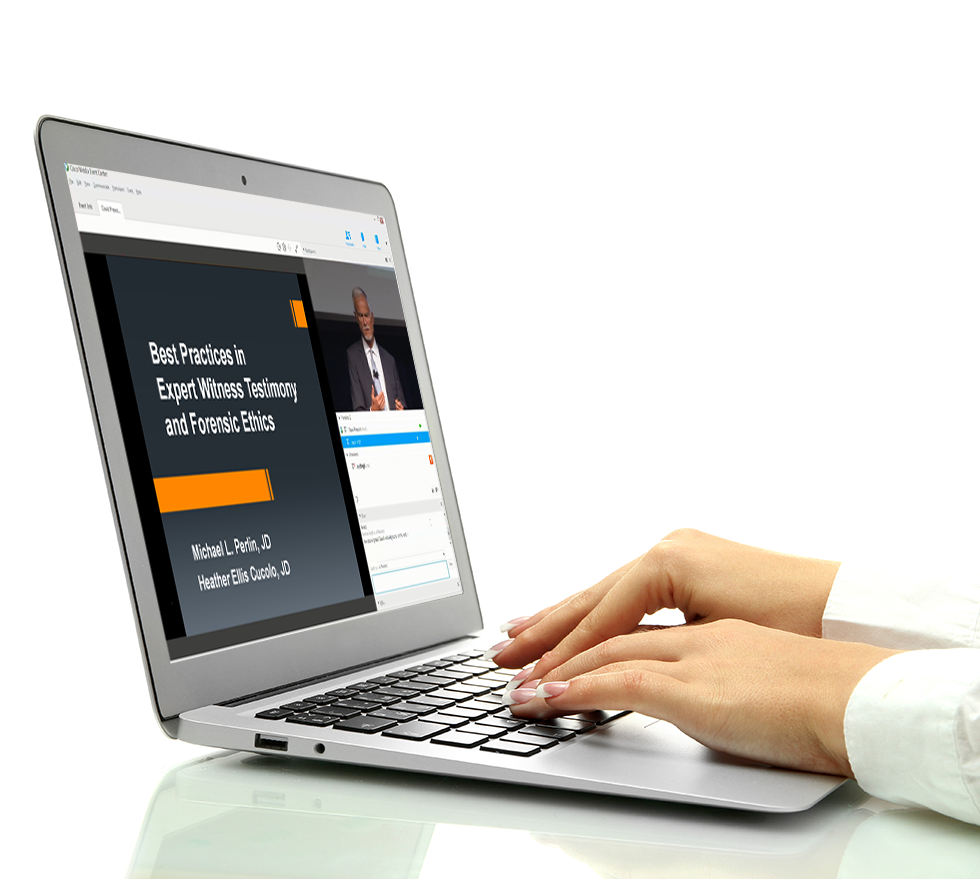 Presented by two of the nation's leading mental health legal scholars, this live and interactive workshop will train you on best practices in forensic report writing, expert witness testimony, and forensic ethics while earning 8 hours of valuable Continuing Education Credit. You will learn the potential pitfalls of serving as an expert witness as well as tips on how to best present testimony and interact with counsel, judges, and jurors. Ethical codes that apply to the different mental health professions will also be discussed, and the implications of therapeutic jurisprudence will be explored. Specific attention will be paid to issues involving forensic experts in mental health disability proceedings, including the rights of persons subject to institutionalization and who have been institutionalized, and the role of mental disability in the criminal and civil trial process.
More cost-effective and time-efficient than attending an in-person workshop but covering the same content, this innovative live training is the first-of-its-kind.
Eliminate hidden costs of in-person trainings including travel, hotel, food, and gas
Develop practical skills with leading experts while growing your knowledge base
Earn 8 Continuing Education Credits from APA, ASWB, NBCC, ANCC, NAADAC, and CPA
"A very effective presentation on a very complicated topic! Information for experts by hyper-competent experts!"
-Samuel Romirowsky, PhD
Licensed Psychologist
Michael L. Perlin, JD is Professor of Law Emeritus at New York Law School (NYLS), founding director of NYLS's Online Mental Disability Law Program, and founding director of NYLS's International Mental Disability Law Reform Project in its Justice Action Center. Author of over 30 books and 300 articles on topics including mental illness and the criminal justice system, mental disability law, and sexual violent predator legislation, Professor Perlin has been the recipient of numerous prestigious awards including the American Psychiatric Association and American Academy of Psychiatry and Law's Manfred Guttmacher Award. Before becoming a professor, Perlin was a Deputy Public Defender in New Jersey as well as the director of the Division of Mental Health Advocacy for the New Jersey Department of the Public Advocate.
Heather Ellis Cucolo, JD is an adjunct professor and the current director of New York Law School's Online Mental Disability Law Program. In addition to representing individuals facing civil commitment under both ¬the New Jersey Mental Hygiene Law and the New Jersey's Sexually Violent Predators Act, Professor Cucolo has published and lectured internationally on the representation and treatment of sexual offenders. She is recognized as one of the premiere experts in sexual violent predator law and has counseled attorneys, judges and clinicians on law and procedure in civil commitment proceedings and issues involving persons suffering from a mental disability or illness within the criminal justice system.
Choose Your Training Date
The Global Institute of Forensic Research, Inc is approved by the American Psychological Association, National Board of Certified Counselors, National Association of Alcohol and Drug Abuse Counselors, Canadian Psychological Association, and the New York Department of Education to sponsor continuing education trainings. The American Nurses Credentialing Center accepts Continuing Education Credit sponsored by the American Psychological Association. The Global Institute of Forensic Research, Inc. (provider #1371) is also approved as a provider for social work continuing education by the Association of Social Work Boards (ASWB) www.aswb.org, through the Approved Continuing Education (ACE) program. ASWB Approval Period: June 8, 2019 – June 8, 2022. Social workers should contact their regulatory board to determine course approval. ­The Global Institute of Forensic Research, Inc maintains responsibility for this program and its contents. Refund/Cancellation Policy: If you wish to request a refund on account of technical difficulties, please contact [email protected] The Global Institute of Forensic Research, Inc. reports no conflicts of interest in the development and sponsorship of this training. The Global Institute of Forensic Research, Inc receives no commercial support for this Continuing Education program or from its presenter(s). The number of CE Credits provided for this training is commensurate to its length in hours. The level of instruction of this training is "Introductory". The format for this presentation is live webinar training with interactivity. The intended audience for this training includes mental health, correctional, and legal professionals.
Note 1: The CPA's approval of an individual, group, or organization as a CE Sponsor or Provider is restricted to the activities described in the approved application or annual report form. The CPA's approval does not extend to any other CE activity the Sponsor or Provider might offer. In granting its approval, the CPA assumes no legal or financial obligations to Sponsors, Providers, or to those individuals who might participate in a Sponsor or Provider's CE activities or programs. Further, responsibility for the content, provision, and delivery of any CE activity approved by the CPA remains that of the CE Sponsor or Provider. The CPA disclaims all legal liability associated with the content, provision, and delivery of the approved CE activity.