Expert Witness Training Series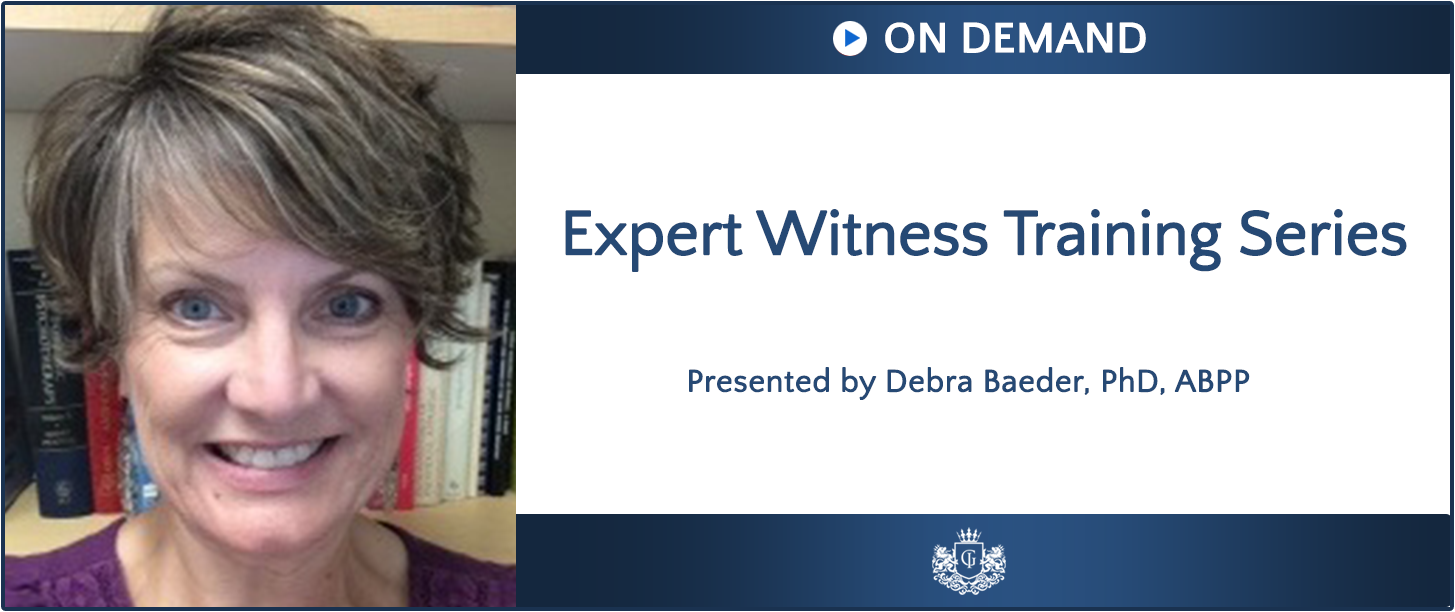 Expert witnesses are professionals with specialized knowledge or proficiency relevant to a case who are permitted to testify at trial. In this innovative On Demand training series, leading presenters from throughout North America provide comprehensive and practical workshops to aid attendees in maximizing their efficacy in serving as expert witnesses. Covering key topic areas, such as developing effective communication skills, conducting personal injury evaluations, completing juvenile dispositional evaluations, and conducting forensic evaluations in disability matters, this training series will equip you with new skills and professional insights.
Each course in this emerging series can be completed at your convenience, and the entire series is scheduled to be eligible for over 50 hours of Continuing Education Credit from over 150 professional organizations.
More cost-effective and time-efficient than attending an in-person workshop but covering the same content, these innovative On Demand trainings are the first-of-their-kind.
Eliminate hidden costs of in-person trainings including travel, hotel, food, and gas
Minimize time away from the office and family by training in-house
Earn Continuing Education Credits from Over 150 National, State, & Provincial Boards
Debra Baeder, PhD, ABPP, is board certified in forensic psychology by the American Board of Professional Psychology. She is the Chief Forensic Psychologist for the State Forensic Service in Maine. Her responsibilities include evaluating adult pre-trial defendants on issues of competence and criminal responsibility, conducting presentence evaluations, and conducting evaluations of insanity acquittees who have petitioned the Court. Dr. Baeder also coordinates the juvenile evaluation program for the State Forensic Service, in which capacity she conducts pre-adjudicatory, pre-dispositional, adjudicative competence, and waiver evaluations. She also consults with and trains other examiners contracted with the State Forensic Service in Maine and nationally. In addition, Dr. Baeder regularly trains pre-doctoral interns and post-doctoral fellows. Dr. Baeder is a member of a workgroup tasked to make recommendations regarding legislation pertaining to juvenile competence and juvenile criminal responsibility issues. She has developed a protocol for juvenile adjudicative competence evaluations in Maine. Finally, she has a small private practice providing forensic workshops nationally.